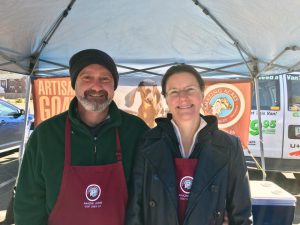 Our Mission
Amazing Acres Goat Dairy produces high-quality cheeses from fresh goat milk provided by animals who are happy, healthy and humanely raised. Through sales and interactions at local farmer's markets and other events, we seek to educate the community about small farms, sustainable farming practices, locally produced food, goats and goat's milk cheeses.
Our History
Amazing Acres Goat Dairy has been owned and operated by Lynne and Will Reid since 2011. Will, a self-described "refugee from the tech sector," and Lynne, a graphic designer for an advertising agency, took a "Cheese Tasting" course at Main Line Night School in Spring of 2002. During the final class, the instructor demonstrated how to make chèvre. Having been avid gardeners, animal lovers and cooking enthusiasts for years, the Reid's decided a goat dairy would be a great way to unite their avocations. This decision launched a nearly decade long journey during which the Reids researched and visited farms, learned about goats, dairies and cheeses, saved money and annoyed friends and family with talk of a future goat farm.
Despite their research, Team Reid had not decided the best first step towards their goal. Start with goats? Or hobbyest level cheesemaking? Or buy some land and figure the rest out? Be it kismet, karma, luck or coincidence, the universe presented an answer. In the spring of 2011, one of the Reids' friends overheard a co-worker say "goat farm for sale" on a phone call. Less than a week later, Team Reid met Debbie Mikulak and Fred Bloom.
Debbie Mikulak turned her love of Nubian goats into a small cheesemaking business. Beginning as a hobbyist with more love for her animals than for cheese, Debbie was immediately successful selling chèvres and bloomy rind cheeses at a few farmer's markets, local restaurants, cheese shops and specialty stores. Despite working a full-time job, Debbie elevated her hobby to a full-fledged small business. She designed and constructed a professional cheese-room complete with a 35-gallon pasteurizer, a 60 gallon bulk tank, three bay stainless steel sink and everything else required to make cheese on a small commercial scale. But within only 18 months after building the facility—and developing a good reputation for their cheeses—Debbie and Fred decided they wanted to retire to Maine.
Team Reid wanted a goat dairy and a lifestyle change. Fred and Debbie wanted a return on their investment and to sell their 5-acre property, home and business for a profit. Recognizing the undeniable synchronicity, Fred and Debbie worked with the Reids to smoothly transfer the farm and business. Debbie spent several months teaching Will to make cheese (an education later supplemented by courses at the Vermont Institute of Artisanal Cheesemaking), and introduced her protege to her customers and professional contacts. In July 2011, Team Reid bought the farm. Team Reid LLC, as Amazing Acres Goat Dairy, officially began cheese production in September of 2011.
Our Goats, Our Family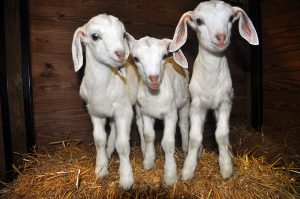 In autumn 2011, Team Reid purchased 6 pregnant Nubian does. While led to believe the does had been bred by a Nubian buck, when the first kids arrived in February, it was clear their father had been Saanen. Welcome Myrtle and Hermie, our very first doelings: Snubian sisters and consistently two of Amazing Acres' best milkers. In the seasons to follow, the herd grew quickly, and by the spring of 2020, 19 does birthed 34 kids!
To maximize milk production, traditional dairies separate kids from their mothers shortly after birth. Rare among commercial dairies, Amazing Acres dam-raise our kids, meaning the kids are never fully separated from their moms. After 3 weeks, Lynne begins to separate them at night. She milks the does in the morning and then releases the kids to feed on mother's milk produced throughout the day. While this practice is expensive, the result is a happier and healthier herd of kids and does.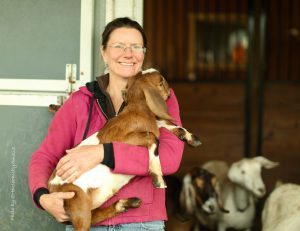 Also unlike many other dairies, Amazing Acres endeavors to find safe and loving homes for every kid born on the farm. While bucklings/wethers (males/castrated males) are not specifically "useful" on a dairy, Team Reid places them as pets and companions to other goats, horses, donkeys and people. Most of our doelings are purebred Nubians and many are sold as pets, 4-H projects, and to homesteaders and other small dairies.
Lynne manages all aspects of goat care, herding, husbandry and the all-important goat loves/cuddles. Not coming from an agricultural background, Team Reid treats their goats less like livestock and more like pets and family members. Of course every goat has a name. And regardless of age or health, Amazing Acres allows their goats to live out their normal lives. Our motley crew of non-milking residents includes Connie, the 15-year-old, too-smart-for-her-own-good, former dame of the herd, and special needs Greg (currently sponsored by one of our amazing customers at Lansdowne Farmers Market), as well as others that many dairies would cull.
Our Cheese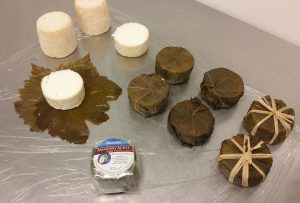 Amazing Acres produces a wide variety of fresh chèvres and bloomy rind cheeses inspired by classic Loire Valley styles.
Our wide variety of flavored chèvres include: roasted garlic*, rosemary/lemon, cranberry, apricot, honey-lavender, smoked onion, jalapeno/lime, chipotle, herbs de Provence and other experimental flavors as the mood strikes. (*Winner, Best in Class (all flavored cheeses), PA Farm Show 2017.)
Will also makes the award winning, ash-rinded Sea Smoke, celebrated in Di Bruno Bros. House of Cheese: A Guide to Wedges, Recipes, and Pairings by Tenaya Darlington, aka, Mme. Fromage. Other bloomy rind cheeses produced by Amazing Acres include a young Boucheron style, appropriately named Baby Bloomer, a Crottin inspired by the classic French Crottin-de-Chavignal, and a goat's milk brie. Once or twice a year, Will ages a batch of Crottin until it's semi-hard. These firm discs are then wrapped in grape leaves soaked in brandy and tied up with raffia. The resulting cheese is called Banon and it's a delicious treat occasionally available from Amazing Acres. Visit Our Products for more details on the cheeses we offer.
While Amazing Acres' cheeses are available at select shops and restaurants, we sell most of our cheese at local farmer's markets throughout the greater Chester County area, including Lansdale, Lansdowne, Havertown, Eagleview/Exton and West Reading. Amazing Acres believes in local produce for local markets and currently does not ship our cheese. Visit our Find Us page to find a farmer's market near you.